How do we ensure the same level of quality, speed, and efficiency on every restoration project we undertake? The restoration experts at Minkoff Company have fine-tuned our process over our 65-plus years of service. By following our process, we're able to deliver consistently fast turnaround times and the highest level of quality.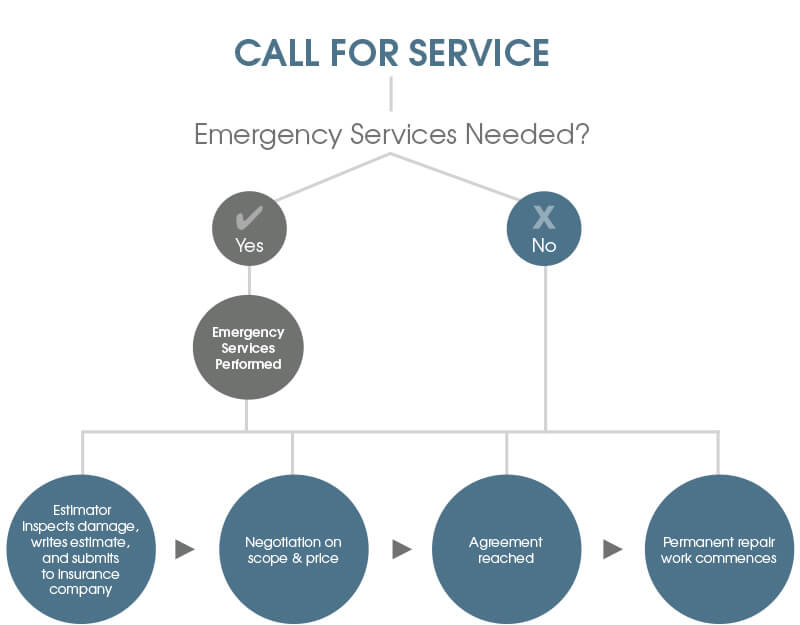 Negotiating & Settling Property Insurance Claims
While performing mitigation work and reconstruction requires specialized skill and experience, another critical component of nearly every restoration project is negotiating a comprehensive "Scope of Work" for our clients. The scope of work and correlating pricing serves as the guide and budget for the entire restoration process. In order to achieve the best possible end results for our clients, we work with their insurance adjusters to ensure that every detail is identified and covered. Typically, significant back and forth communication and numerous site inspections with the adjuster are required before an agreement (settlement) can be reached with the client's insurance company.
Having performed more restoration projects than any other restoration firm in the region, our team of experienced estimators have unparalleled experience in settling claims on behalf of property managers and real estate owners. Often times, property managers and owners are reluctant to allow work to commence prior to a settlement being reached with their insurance companies. The process of negotiating claims, especially those of larger size, can take a significant amount of time – it is not uncommon for this to take weeks or even months in extreme cases.
However, due to the confidence we have in our ability to achieve the best possible settlement for our clients, as a value-added benefit to working with Minkoff, we will begin restoration work in advance of achieving the final claim settlement. We do this at our peril – any shortfall resulting from a disparity between the insurance valuation and our own will be borne by us. This promise allows us to begin work immediately, returning the damaged property to pre-loss condition as quickly as possible.